Packet (200 g)
Bovine colostrum powder
A safe supply of antibodies and a variety of biologically active agents
ECI's bovine colostrum powder is colostrum from the first milking on European farms (free from brucellosis, tuberculosis and leucosis). This product is 100% nature, rich in maternal antibodies and has a high nutritional value and good health benefits. ECI pays particular attention to the entirety of its production process, in order to ensure that the biological activity of its products is maintained.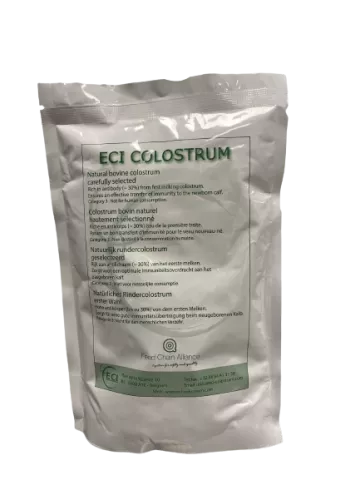 Recommended use
'Feed' and 'Pet food' industries
Storage
Sealed packet; 30 months at room temperature After dilution: 48 hours , 4°C (fridge)
Immunoglobulin
> 30 % (IG)*
*dosage by immunonephelometry
IBR
'Regular' colostrum, or colostrum that has not been certified as IBR-free, is free of IBR, but may contain antibodies that cause positive results on IBR tests if the calf is tested before the age of six months (a blood sample when being purchased, for example). Please do not hesitate to contact us for more information.
Usage for feeding calves
FOR 1 LITRE OF COLOSTRUM
Add one 200 g packet of powder to 500 ml of warm water (30–37°C)

Mix

Add 500 ml of warm water to bring to one litre

Mix thoroughly
THREE LITRES OF ECI COLOSTRUM
Administer in three meals (one litre per meal)
MEAL 1:
One litre of colostrum as quickly as possible after the calf is born
MEAL 2:
One litre of colostrum six hours after the calf is born
MEAL 3:
One litre of colostrum twelve hours after the calf is born
Quality certification/assurance
Quality management system
Food safety management system
Self-inspection system: compliance with the HACCP (Hazard Analysis Critical Control Points)
FCA (Feed Chain Alliance) complies with OVOCOM specifications concerning the production of animal feeds.